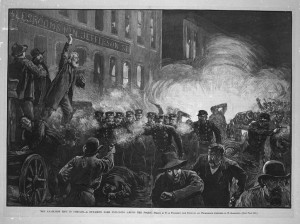 What is May Day?
The traditional workers holiday, 1st May, has its roots in a pagan festival that was perpetuated by the common folk of Europe, despite repeated attempts by the church and authorities to outlaw the events, renowned for mischief making and rabble-rousing.
In early May 1886, the workers of Chicago went on strike as part of the US wide struggle for an 8 hour working day, staying out in defiance of the police violence including the murder of one of their comrades. In an attempt to halt the disruption caused by the strikes, the State framed 8 anarchist union organisers for the bombing of police strike breakers. The prosecution declared that "Anarchy [was] on trial!"
On November 11th 1887, 4 were executed, another escaping the hangman by committing suicide. 3 others were imprisoned until 1889, when the innocence of the convicted was finally conceded by the State.
May 1st is a day of commemoration for these and all other martyrs of the class struggle, as well as a traditional day of working class agitation. Today, May Day is a day for the working class to celebrate our victories, remember our heroes and organise for the future. Happy May Day! For more class struggle history visit: http://www.libcom.org/history
What's happening this year?
Auckland: McStrike on Mayday!
Talks just broke down between Unite Union and McDonald's. We're going to take action. Join the Protest outside McDs, Queen St, 3.30pm on Wednesday May 1st.
Auckland: Picket against Youth Rates
Join Auckland Action Against Poverty at 8.30am, Wednesday 1st May, outside Royal Oak Pak'nSave, Manukau Rd. We are taking action because this store wants to introduce youth rates for 16-19 year old workers, and is refusing to offer its workers more than a zero wage rise this year.
Palmerston North: May Day concert (4th May)
Saturday, 4th May, Regent on Broadway. A great night of fun and solidarity in the form of song, music, dance and performance art from community groups and individuals throughout New Zealand and beyond. The MayDay Cup is presented by a panel of judges to the outstanding group / performer on the night.
Wellington: May Day speeches
5.30pm, PSA House, Level 6, 11 Aurora Terrace. Presentation of the Roger Award gets underway at 6pm.